GR Longworth VMD ~ Web Site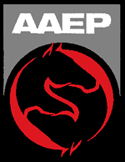 American Association of Equine Practitioners
The AAEP's mission is to improve the health and welfare of the horse, to further the professional development of its members, and to provide resources and leadership for the benefit of the equine industry. These principles have guided the AAEP for nearly 50 years in the activities and services it provides. The AAEP's work includes the development and promotion of recommended practice guidelines; support for research, training and education; advocacy on behalf of the horse, veterinarians and horse owners; and providing timely distribution of information on health matters important to the equine industry. Nearly 5 million horse owners are served by the AAEP and its members.
Winners Circle Equine is a three veterinarian practice in Hemet, California. Hemet is in southern California about one hour from Ontario airport. It is a full service equine practice with emphasis on reproduction, mare and stallion management, embryo and oocyte transfer and Intracytoplasmic Sperm Injection.


Chapparal Veterinary Medical Center
Chaparral Veterinary Medical Center is a full service veterinary hospital and clinic for horses, dogs, cats, and exotics. From its original location started in 1978 to their new location built in 2008, the practice has constantly been striving to improve patient care by being progressive in the services we provide. Chapparal Veterinary Medical Center now offers not only quality primary care services for our patients but we also provide specialists for the most demanding referral cases.
Hamilton Research, Inc. (HRI) is a pioneer in the field of transported, cooled semen. As the developer of the Equitainer, we have been at the forefront of the transported semen field since its inception. Hamilton Research, Inc. is a customer-oriented company dedicated to providing the most reliable transported semen products to breeders and veterinarians.
BREED ASSOCIATIONS:
DISCIPLINES: